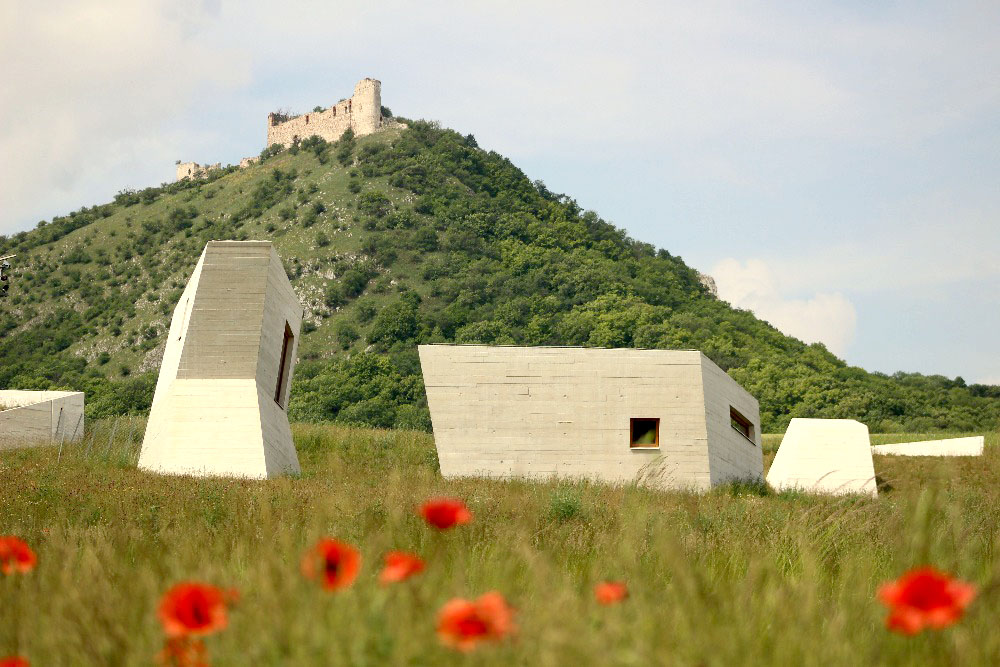 Descend underground and return to the distant past. To a prehistoric Paleolithic settlement, where you will learn how our ancestors - mammoth hunters - survived here.
25-27 thousand years ago, our ancestors lived in bands, but at the time of hunting or feasts they gathered in one place. Such was also the settlement of Paleolithic hunters discovered on the outskirts of Pavlov and declared a
National Cultural Monument
in 2010.
Subsequently, a modern field exhibition was born here.
Viewed from afar, it looks like a meadow dotted with several asymmetrical rock towers, such as those that normally line the slopes of Pálava. But as soon as you get closer, you will discover that it is a concrete skylight, under which hides a
stunning underground "cave"
full of historical finds.
You will see art objects, tools or ritual graves. And do you have any idea how big a mammoth bone is? Here you can "measure" it at close range.
Since this unique building was built
directly on an archaeological site
, the exposition also includes real archaeological layers.
From our
guesthouse
you can reach the Archeopark in less than 10 minutes.
Or you can make a nice trip and
walk here
through the
Girls' Castles
. It takes approximately 2 hours to walk less than 7 km. And you can get here by bike on the
wine learning trail
.
The Pavlov Archaeopark is open from April to November.
For current opening hours, prices and all the essentials, please visit
webu Archeoparku Pavlov
.